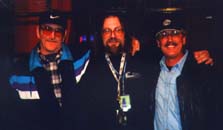 Gordon Hirsch, Donrad & Billy Truit
Legendary musicians from 60's rock band the Kingsmen! Infamous for the song "Louie Louie!" (need I say more?). San Francisco, CA, December 17, 1999.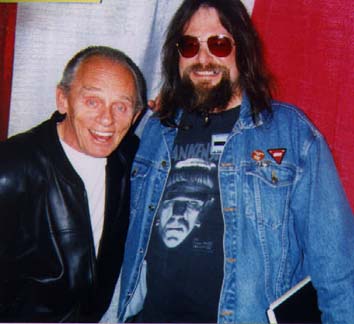 Frank Gorshin & Donrad
Frank was the legendary "Riddler" from the Batman TV series in the 60's, that starred Adam West and Burt Ward. Frank was way cool to meet, and was happy to have his photo taken with his fans. Photo taken in Novi, Michigan, May 1999 by Alison Kalbarchick"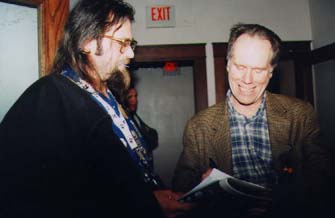 Donrad & Loudon Wainwright III
Loudon Wainwright III is one of the most interesting performances you can witness, and he makes some of the funniest faces I've ever seen! Most people know him by his 70's hit "Dead Skunk," or from his appearances in the early M.A.S.H. television episodes. This was after a show at the ARK in Ann Arbor, MI December 4, 1999.
Photo by Dawn Rhoads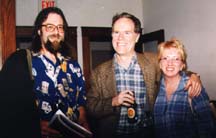 Donrad, Loudon Wainwright III & Dawn Rhoads
Another shot of Loudon, this time with my friend Dawn Rhoads and me at the ARK in Ann Arbor, MI December 4, 1999.