Click on images for a bigger view.

Iggy Pop & Donrad
A rare instore appearance by Iggy Pop allowed me to finally meet this rock legend. Iggy was way cool to his fans, and signed way more things than most people would have. This was an instore appearance at Tower Records in San Francisco while Iggy was promoting his "American Caesar" album in 1994. Photo taken by Eric Predoehl.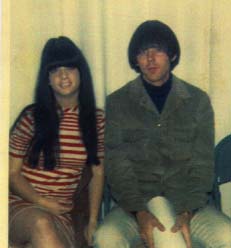 Judi Micelli & Mike Stuart (drummer for LOVE)
Judi Micelli is a friend of mine who shared with me this picture of her and Mike Stuart, so I thought I'd include it to my web page to add additional interest to what I have going on in here. Mike was the drummer with 60's rock band LOVE. They were a popular band in the psychedellic era of San Francisco and all over the country. Photo taken 1968 in San Jose, CA, at the fairgrounds.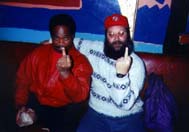 Ray White & Den Simms.
Ray White was one of the singers and guitarists for Frank Zappa for many years, and Den Simms is the editor/main man behind "The Society Pages" (a Frank Zappa fan magazine if you will). This moment was captured at a San Francisco nightclub after I introduced Ray to Den for the first time. It was a very special moment in time, as later that evening there was a tribute concert for Frank Zappa by Ca-Ca, and Mr. Ray White joined the assemblage on stage for the entire evening. Photo taken January 1994, San Francisco, CA by Donrad


DEVIL GIRL
This is actually Sean Yseult (formerly of White Zombie fame) in her Devil Girl costume leading her new band called "Famous Monsters!" into a song. Famous Monsters are a way cool three-piece girl band that do some invigorating instrumental songs. Do yourself a favor and go check them out if they come to your neck of the woods... warning, you may want to bring a necklace of garlic and a wooden stake though! Photo taken June 25, 1998 by Donrad, in San Jose, CA.

FAMOUS MONSTERS WEBSITE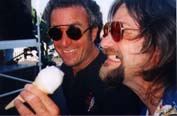 Jessee Block & Donrad.
Jessee Block is a noted film maker and all around great human in the San Francisco bay area. He has produced thousands of hours of concert footage, documentaries, commercials, TV shows, and other wild events too numerous to mention. It's an honor to consider Jesse a friend, as he's a way cool person to deal with. Here we are imitating one of our favorite Greatful Dead album covers in front of Stanley Mouse at the Sausalito Art Fair. Photo taken by Eric Predoehl on September 5, 1998, Sausalito, CA. 1998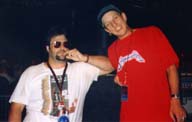 Donrad & the Wedge
This photo was taken at the sound board of a Deftones, White Zombie, Pantera concert in Kalamazoo, Michigan back in 1996. The Wedge is an old friend of mine who tours constantly doing sound for killer bands. If you ever cross paths with him tell him Donrad said "PANTS!"