Joey Molland & Donrad
Joey Molland, one of the singers and guitarists from the legendary band "Badfinger." Photo by Eric Predoehl 1993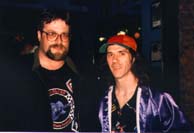 Donrad & Johnny Spampinato
Johnny Spanpinato is the newest member of legendary rockers NRBQ. Johnny is a great guitarist and is handling the chores left behind by Big Al. NRBQ is one of those bands where everyone has fun at the show. NRBQ is one of the recording industry's best kept secrets, once you discover them, you won't be able to get enough of them, they're infectious. Photo taken at the Blind Pig in Ann Arbor, Michigan 1995.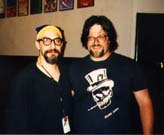 Pat DiNizio & Donrad.
Pat is (was?) the frontman for one of the finest bands around known as The Smithereens. This photo was taken after an interview with Pat for Eric's upcoming documentary "The Meaning of Louie." Photo taken at the Filmore in San Francisco, CA, by Eric Predoehl 1994..

SMITHEREENS WEBSITE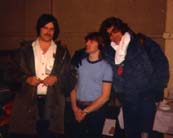 Donrad, Ric Emmit & Gil Moore of Triumph.
This was taken in Grand Rapids, Michigan backstage after a Triumph concert in 1981. Triumph was a 3 piece hard rock band from Canada.