Visiting James Dean in 1996. This is probably the closest most of
us will ever come to meeting James Dean. Many have inquired,
and yes... this is his actual grave sight in Fairmount, Indiana.
Photo by Peter Bloink.
Visiting Jimi Hendrix at his grave sight in Seattle, Washington,
April 1998. Unfortunately the image and words on the gravestone
are unreadable.
Photo by the "Grouse."
Bobby Troup.
The man who wrote the song "Route 66." I was lucky enough to
have talked with Bobby in Los Angeles, California upon
completing my 1998 Route 66 trip in late May. He has since
passed away. This is an autographed 8 x 10 photo I got from
Bobby and I thought I'd share it with you.

Hanging with Juan Delgadillo at the Snow Cap in Seligman,
Arizona, May 28, 1998. A must visit for anyone going through
Arizona.... be sure to ask Juan for a ride in his 1935 Chevy.
Photo by Peter Bloink.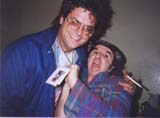 John "Whit" Lehnberg & Randy Bachman.
Whit has been a soundman and road manager for many bands,
and is one of the coolest people you could hope to know in the
music business. Randy Bachman was senselessly run over by a
drunk driver in 1987. Randy was one of the best rock photo-
graphers in the business and has many photo credits on album
covers. This photo was taken backstage before a Dave Edmunds
concert on March 1, 1987 at Wolfgang's, San Francisco, CA.
Photo by the "Wedge."
Leather shop of fun
Haight Street
San Francisco, CA 1998