Robin Williams & Donrad.
Robin Williams is one of the funniest comedians in history and also one of the greatest actors currently around. This photo was taken on May 12, 1984 after a Bread & Roses benefit in San Rafael, CA.

Donrad & Weird Al Yankovic.
"Weird Al" is one of the craziest live shows you could ever hope to see. If you think his records are funny, wait until you see him in person. I don't have the space here to describe his show, other than you'll probably wet your pants. Photo by Eric Predoehl at the Catalyst in Santa Cruz, CA 1994.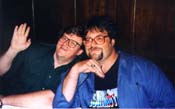 Mike Moore & Donrad
You may know of Mike Moore from his movie "Roger & Me." One of the best documentaries I've ever seen (one of the funniest and saddest as well). I hooked up with Mike in Ann Arbor, Michigan when he was promoting his book "Downsize This" in the fall of 1996. The book is highly recomended and is very funny. Photo taken by Tony.


Donrad & Reverend Billy C. Wirtz.
Rev. Billy C. Wirtz is one of the funniest live performers traveling the country.
You owe it to yourself to vist his website listed below, and purchase his CD's. By all means go see him live if he performs in your area! Billy is not just funny, but can play the hell out of a piano.Photo taken by Gary Brewster at the Kuumbwa Jazz Center in Santa Cruz, CA, June 1994.

REVEREND BILLY C. WIRTZ WEBSITE
Ray White (Zappa Band), Ray's wife Gwenda & Donrad. Ray White sang and played guitar for Frank Zappa for several years in the late 70's and through the 80's. A great voice and a great person to know. I consider Ray a friend. Photo taken in 1994 in San Francisco, CA.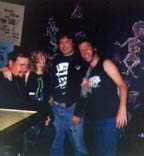 Skid Roper, ?, Donrad & Mojo Nixon.
Skid Roper & Mojo Nixon were a pair to be reckoned with in their day. Both acts are solo now and still worth going to see. This photo was taken on September 30, 1990? at the Cactus Club in San Jose, CA.