MR. U. UTAH PHILLIPSOne of the most brilliant folk story tellers in the world. Utah Phillips is Americas best kept secret, and it's very unfortunate that more people aren't aware of him or who he is. He is notorious for telling stories that are longer than his songs, but no one complains as he is so genuine, warm, and has a great sense of humor. I can not rave enough about Utah and how great he is. If you ever see an album or CD by him, I highly suggest that you pick it up. Once the songs begin and the stories start unwinding, you'll wish you were by a camp fire with all of your friends. I was lucky enough to have met Utah, and a true honor it was, and it remains a highlight in my life. I am also glad that a cadre of my good friends were in attendance with me, it was a very special evening to say the least. This is a copy of an 8 x 10 glossy that Utah autographed for me.

Donrad, Utah Phillips and Hawkeye

The always gracious Utah Phillips sharing a wonderful tale with Donrad and Hawkeye, July 11, 1998 in Santa Cruz, CA. Photo by Suzi Kriz.
Utah Phillips and Hawkeye
Utah and Hawkeye posing for a photo for Suzi Kriz, July 11,1998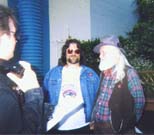 Donrad & Utah Phillips

Basking in the glow of being in Utah Phillip's presence, and swaping stories. Eric is in the far left getting ready to take a picture. Photo by Suzi Kriz, July 11, 1998.

Donrad, Utah Phillips and Eric Predoehl

Eric Predoehl is pointing out a famous light
bulb joke to Utah as Donrad looks on, and
Hawkeye turns his back to the whole affair.
Photo by Suzi Kriz, July 11, 1998.

Eric Predoehl, Donrad and Utah Phillips

Utah is writing down his address for me,
so I can send him some things I wrote.
Photo by Suzi Kriz, July 11, 1998.