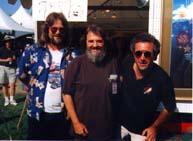 Donrad, Stanley "Mouse" Miller & Jesse Block. Legendary artist Stanley Mouse, and film maker Jesse Block. If you're a fan of Steve Miller, the Grateful Dead, Journey, or American Graffiti, you've seen Mouse's art work (he's done far more than these bands, but they're the more mainstream ones you may know). It was a real treat to meet Mouse, and a very unexpected happening. Jesse Block has ran rampant through the bay area for many years and produced some of the finest commercials, videos, and concert footage known. It is an honor to be able to refer to Jesse as a friend. Sausalito Art Fair, Sausalito, CA, September 5, 1998. Photo by Eric Predoehl.


Kevin Wright & Dave Edmunds. Kevin Wright was the guitarist/singer for the Kingpins, and Dave Edmunds is legendary for his nack of writing a damn good song around the two-minute mark and is one of the most sought after producers in the music business. Some of you may know of Dave's solo work or his contribution to the band Rockpile with Nick Lowe. Photo taken backstage at Wolfgang's in San Francisco, CA March 1, 1987 by "The Wedge."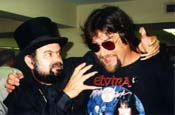 Jose Mojica Marins "Cofin Joe" & Donrad. Coffin Joe is a major legend in film making in Brazil. His movies are not for the squeemish, and are very unique in their editing and visual approach. Hard core horror fans know what he's about, and his videos are difficult to find, but if you get the chance to see one, put on your seat belt! Photo taken in Los Angeles, CA 1994.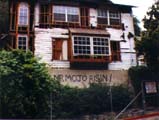 Jim Morrisons house. The legendary home/apartment of the Lizard King and his girlfriend Pam in Los Angeles. The house was located off of Laurel Canyon behind the "Country Store." It was tore down in 1994, and is only a memory for those in the know, however.... it's ghost lives on! Photo taken in 1991 by Judi Micelli.