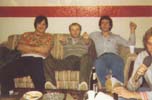 Donrad, Phil Collins, Tony Banks & Mike Rutherford of Genesis. This photo was taken during the Genesis "Abacab" tour on November 23, 1981, backstage at Wings Stadium in Kalamazoo, Michigan. The bowl on the table was vegetable soup that Phil was eating earlier in the evening.

GENESIS WEBSITE

Donrad & Mitch Mitchell (Jimi Hendrix). Mitch Mitchell was the original drummer for Jimi Hendrix and played on all the classic Hendrix songs. Here I am walking with Mitch to a drum clinic at some music store in San Jose, CA. Later that night Mitch did a concert with Hendrix impersonator Randy Hanson (supposedly it was the first time those two played with one another). Mitch was very cool to deal with, and he gave me one of the drumsticks he was playing with after the concert that night. I will not part with it so don't even ask. The crazy thing is, that I forgot to ask Mitch for an autograph... oh well, the drumstick and photo will suffice. Photo taken in San Jose, CA in 1985 by "The Gig."

Donrad & Elvin Bishop. Elvin Bishop has been a legendary blues guitarist for many years. He started out with the Butterfield Blues Band in San Francisco, CA and has been solo for a number of years now. Some of you probably remember his hit "Fooled Around and Fell in Love" from 1976. Always a crowd favorite live, make sure you go to see Elvin if he's performing in your area, you'll have a happier outlook on life. His last few CDs are really good too! Photo taken at J.J.'s in San Jose, CA 1994 by Gary "Porthole" Brewster.
Donrad & Leon Redbone. What can you say about a legendary performer such as Leon Redbone? He's not just musically talented, he's also a very straight faced joker. A definate "must see" if he performs in your area. This photo was taken in 1986 at the Cabaret in San Jose, CA. I had this photo blown up, and hooked up with Leon a few years later and had him autograph it for me in 1992. You can see his autograph at the bottom right side of the picture. Photo by Shiela Katzen.