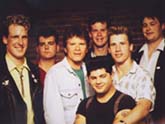 Craig Ramsay, Rob Mellberg, John Fogerty, Mike Belardes (in
front), Gary Suydam (in back), Kevin Wright, Donrad. The
Kingpins, John Fogerty & Donrad at Club Langerie in Hollywood,
California 1987. John was very accomodating to our requests
for autographs and a photo as long as it was for our personal
collection and not going to be displayed in every restaurant in
Los Angeles.
Photo by the "Wedge."

Graham Nash & Donrad after a benefit for Bread and Roses in San Rafael, California. Graham performed a song called
"When Meadows Cry" that was very incredible, I wish he
would record it someday.
Photo by Dave Devasier May 12, 1984

GRAHAM NASH WEBSITE
Rob Mellberg, Mike Belardes, Craig Ramsay, Jerry Lee Lewis, Gary
Suydam, Kevin Wright, Donrad. The Kingpins, Jerry Lee Lewis &
Donrad at the Palomino in Los Angeles, California on June 23, 1987.
"The Killer" was in a good mood on this night and posed for two
different photos with us. I also got one of the two autographs he
signed that night.


JERRY LEE LEWIS WEBSITE

Donrad & John Kay from Steppenwolf.
All I can say about this is "Get you motor running, and head
out on the highway!" This photo was taken at the N.A.M.M.
show in Anaheim, California January 16, 1989

STEPPENWOLF WEBSITE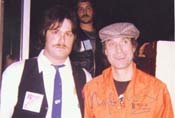 Donrad & Ray Davies of the Kinks. This was one of those special
moments when you meet a celebrity and you walk on air for several
days afterwords. Ray Davies is one of my all time favorite writers
and musicians. This photo was taken after a Kinks concert at Wings
Stadium in Kalamazoo, Michigan 1981. I had the photo blown up
and a couple of years later I met Ray again and he signed this
picture, you can see his autograph on the front of his orange jacket
Photo by Steve Schaff


RAY DAVIES WEBSITE

Donrad & John Entwhistle of the Who. This picture has definate bragging rights for any fan of the Who, and I was
walking on clouds after meeting John, to say he's a legend is
an understatement... he's also the best damn bass player on
earth! This picture was taken in Anaheim, California in 1989.