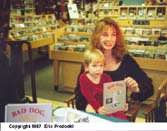 CASSANDRA PETERSON & SADIE

Cassandra Peterson (ELVIRA) and her
daughter Sadie at a book signing for "Bad
Dog Andy," in Los Angeles. Yes, this is
what the most beautiful woman in the world
looks like when her ELVIRA make-up and
wig are gone.
Photo by Eric Predoehl 1997

EARLITA & MARC CAWIEZEL

Marc is the largest ELVIRA collector I
know of. Thanks to him I have many rare
ELVIRA items in my colection. Marc had
to be included on this page, or I would have
gotten a major guilt trip from him!
Photo by Mike Kazubski 1995

KURT KRAUSE

Kurt is one of the best figure modelers
known in the western hemisphere, and
a small sample of his work is in the
background of this photo. Kirk is also
one of the biggest ELVIRA fans I know of,
and has helped me acquire many ELVIRA
items for my colection. Kurt is also very
knowledgeable in the field of heavy metal music!
Seattle, WA, April 1998.
!
The photo that belongs here will be coming soon.