FUZZ FEST
A "MUST HAVE" album/CD for anyone into FUZZ guitar. This CD has been rereleased recently and should be in the finer record stores everywhere, if you don't find it, ask them to order one for you. This is one of the coolest albums Davie has ever released (and that's a tall order as he has released some pure dynamite stuff). It defines the true style of FUZZ guitar! The opening track "Chopper" sets the stage, and the CD continues to rev into high gear throughout. Not for the squeemish, this album ROCKS hard and heavy, I'm sure that most real bikers have it by now.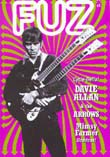 FUZ Magazine
FUZ magazine is the ultimate tribute to Davie Allan and the Arrows. It is the most complete and researched magazine known to exist on Davie Allan (it also has a great piece on Goddess Mimsy Farmer). I highly recommend this magazine to anyone who is into motorcycles and cool 60's music. Seth Wimpfheimer has created a masterpiece on Davie... feel free to order one and tell him that Donrad sent you. FUZ magazine can be purchased for $5 + $3 postage. Send money orders to: FUZ Magazine, c/o Seth Wimpfheimer, 519 Birch Avenue, Westfield, NJ 07090


SKATERHATER
This is one of the newest releases by Davie Allan, and also includes the Phantom Surfers as his band. A Really cool CD, and it rocks throughout. This album also has a sense of humor to it, but then, how could that be avoided with the Phamtom Surfers? Davie keeps the songs on this album honest with his Fuzz guitar laced in all the songs, and it blends in perfectly with the cool sounds of the Phantom Surfers. The title is a spoof on one of Davie's earlier 60's recordings called "Skaterdater."
FROM PARADISE TO HELL
This is a CD I would not have in my collection if it wasn't for the kindness of Davie Allan. "From Paradise to Hell" is an import and hard to find... but is well worth your effort in trying to locate it. It contains many songs and it's not fair for me to name a couple of favorites as I like most all of them. Rest assured the selections on this disc all bear the mark of the "Fuzz Master General" himself, Mr. Davie Allan. Thanks for mailing me this one Davie, it was a major coup!