Paul Mavrides & Donrad

Paul is in this photo drawing a "Fat Freddy" character in my sketch book in Oakland, CA in 1993. Paul has drawn the Fabulous Furry Freak Brothers comics for many years along with the creator of the strip Gilbert Shelton. The sketch he drew is also on this photo, so if you click on the image you'll see what he drew me. Also on the page is a Mickey Mouse character drawn by some notorious artist who chooses to remain nameless. Back off Disney, this is a personal drawing and is not for sale... you sue happy bastards!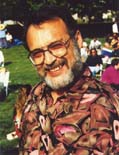 MR. ED WATSON

Ed is an artist, sculptor, and collector of fine things who is one of the most incredible people I've ever met. No one on earth can draw or sculpt the female body better than Ed, he has it down to a fine art. Ed's artwork has also been all over the world, and he has created some brilliant work. Lately he has become a recluse, but he is still a very special person to those of us who know him. Ed was also one of the first guests to have appeared on my short lived TV show "PUD." Ed is the kind of guy that people just enjoy being around and is a very quick witted guy. He also has a crazy dog he calles "the Weezer."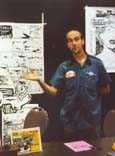 MR. KENT MYERS
I'm very proud to consider Kent a personal friend. Kent has had his artwork and illustrations all over the world, in magazines and papers. He was the main man behind the comic book "Detroit! Murder City Comix." Kent also has done a couple of Fillmore West and Warfield posters. His style of art is very unique and brilliant. He is one of San Francisco's best kept secrets. There are so many things on Kents portfolio, all I can do is recommend you visit his web site. Click on the words below to get quick access to Kent's website. Photo by Donrad 1994.
KENT'S WEBSITE
MR. DAN "BROOMER" CLARK

Broomer Clark is another personal friend and he has also aquired many other nicknames since he was dubbed "Broomer" by his college roommates back in the late 70's. Dan is one of the finest illustrators I've met in life and has done some incredible work for the people in Grand Rapids, Michigan. Dan has created many T-shirts in Michigan for local businesses and a few select fun projects as well. This photo was taken in 1995 and will come as a shock to those who knew him in the 70's with very long hair.